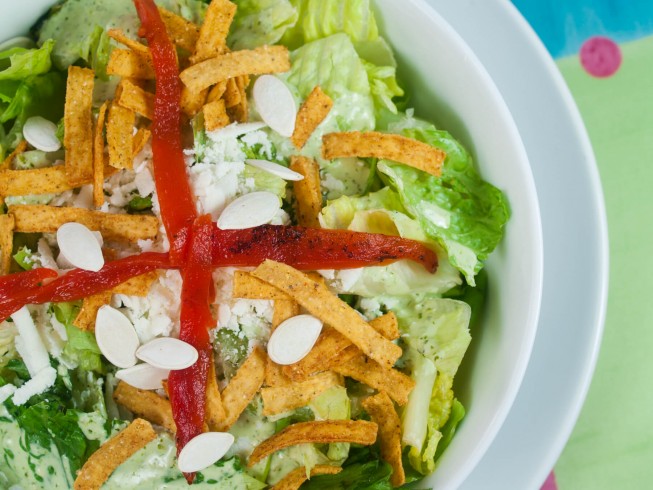 by America's Restaurant Recipes
NOTE: If you click on any of these affiliate links above or below I will earn a small commission to help pay for this website. Read more about my Affiliate Disclosure Policy. Thanks so much for your support.
Description: Strips of crisp-fried tortillas(this can be optional to save calories) on top of a bed of greens with roasted red pepper strips drizzled with a creamy and
zesty dressing with a kick.
Ingredients:
Cilantro Pepita Dressing:
2 medium Anaheim Chiles,
roasted, peeled and seeded
1/3 cup roasted pepitas
(pumpkin seeds)
2 garlic cloves, peeled
1/4 teaspoon ground black
pepper
1 teaspoon salt
12 oz. salad oil
1/4 cup red wine vinegar
5 tablespoons grated Cotija
cheese (Cotija cheese is a hard cheese similar to parmesan)
2 small bunches cilantro,
stemmed
1 1/2 cups mayonnaise
1/4 cup water

Salad:

2 corn tortillas
vegetable oil
1 large head romaine lettuce,
rinsed and spun dry
1/3 cup finely grated Cotija
cheese
roasted red bell pepper, peeled
and cut into julienne strips
1/2 cup roasted pepitas
(pumpkin seeds), for garnish
Directions:
Place chilies, pepitas, garlic, pepper,
salt, oil, vinegar, and cheese in bowl
of food processor and blend approximately 10 seconds; add cilantro, a
little at a time until blended smooth.
(This may have to be done in batches.)
In large stainless steel bowl, combine mayonnaise and water; whisk
until smooth. Transfer Chile mixture
to bowl; whisk to blend thoroughly.
Transfer to covered container and
refrigerate. Will keep for 3 days.
Assemble salad: Cut corn tortillas into matchstick size strips. Heat oil in saute' pan; fry tortilla strips until crisp; remove with slotted spoon; drain on
paper towels; set aside.
Tear romaine into bite-sized pieces; place on salad
plates; ladle about 2 oz. of dressing over each salad.
Top with Cotija cheese and tortilla strips. Arrange 4
red pepper strips (like spokes of a wheel) on top of
each salad; garnish with whole pepitas.
Serves 4
About El Torito's:
El Torito's (R) Sports Bar opened in 1982 serving flavorful, succulent, meaty pork ribs, peel-your-own shrimp and tangy BBQ chicken as well as many other favorites. America's Restaurant Recipes.